BIOGRAPHY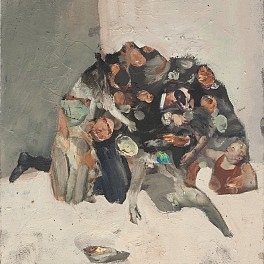 Born in Venice, Italy in 1983, Bubacco currently lives and works between Vienna (Austria) and Venice (Italy). He is the son of the famous Murano glass artist, Lucio Bubacco, under whom he first learned his craft. From 2002 to 2004 he studied painting in Venice under Alessandro Rossi. In 2011 he presented his monumental painting Crimson Orchestra during the Venice Biennale.

Bubacco's work has been showcased in solo and group exhibitions; in museums and galleries around the world including the Chemnitz Museum of Art, Chemnitz (Germany), Stadgalerie Kiel Museum of Art, Kiel (Germany), Museum of Contemporary Art, Rome (Italy), Louis B James Gallery, New York City (USA), David Richard gallery, Santa Fe (USA), and Rompone galerie, Cologne (Germany).

His exhibitions were reviewed in The Modern Painters Magazine, USA, ArtInfo, USA, Document Journal, USA, by Kathy Battista, Director of Contemporary Art at Sotheby's Institute of Art, and the Kurier, Austria.