BIOGRAPHY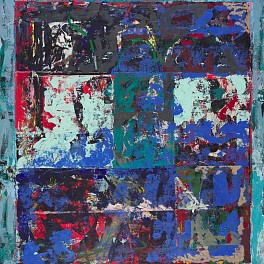 Elad Kopler is an Israeli painter renowned for his large-scale abstract paintings. Throughout his career, Kopler's artistic style has undergone significant transformation, shifting from figurative urban-apocalyptic landscape paintings to vibrant abstract works that explore the realm of emotional and mental landscapes. A main quality in his works is the deep emotions his color combinations evoke. His current body of work is marked by the interplay between abstract and figurative elements of deserted landscapes, reflecting the ongoing battle between logical reasoning and emotional states of being.
In 2012, Kopler was honored with the Rapoport Prize for Young Israeli Artists. Following this recognition, in 2013, he held a solo exhibition titled "Temperatures" at the Tel Aviv Museum of Art. This exhibition delved into themes of destruction and deconstruction through expansive landscape paintings depicting desolate urban settings and apocalyptic scenes, where form gradually evolved into abstraction. In 2018, his exhibition "Dread & Delight" graced the Nahum Gutman Museum of Art in Tel Aviv, and in 2022, he displayed seven of his large-scale abstract paintings at Litvak Contemporary, showcasing the pinnacle of his abstract work.
In his most recent works, Kopler employs a dialogue between grids and frames and expressive brushwork to invigorate the tension between order and chaos within his art. His creations grapple with questions about the nature of painting itself, the transition from two dimensions to three, the sculptural and structural qualities of painting, as well as the interplay of shadow, light, and the impact of color combinations. Concepts, eras, gestures, materials, and colors coalesce to craft multi-dimensional paintings that draw inspiration from modern abstract painters like De Kooning, Pollock, and Mondrian, as well as the contemporary artist such as Sean Scully.
Kopler holds an MFA from the Bezalel Academy of Arts and has garnered numerous accolades, including the Rappaport Prize for Young Painters, a Scholarship Award from the Hamidrasha School of Art, a grant from the America-Israel Cultural Foundation, and more. In 2019, he participated in the Yaddo artist residency, Saratoga Springs, NY, USA.
Elad Kopler's artworks grace collections around the world, including the The Tel Aviv Museum for Contemporary Art Collection (Israel); The Petach Tikva Museum of Art Collection (israel); Bank Ha'poalim Collection (Israel); the Philip Hofer Collection (NY, USA); Sam & Yael Bacharach Collection (NY, USA), and various private collections.